Guitars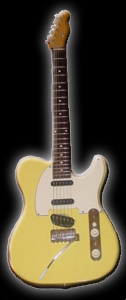 Fender Telecaster
1968 Ash body is refinished yellow with simulated wear, Was chopped out for a Floyd Rose tremolo, Filled and re-routed for a Gotoh vintage-style tremolo. Bridge pickup is mounted in body. Middle and neck pickups are Strat pick-ups. Ambered maple neck,
Rosewood fingerboard, Vintage-style tuners.
Case - $85. Guitar - $1,100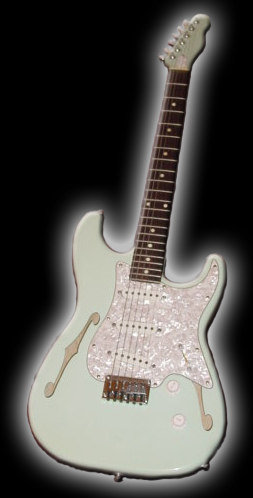 046 - Double Cutaway
Semi-hollow light ash body, Pale blue finish, Pearliod pickguard, Seymour Duncan coolstack pickups, Slender maple neck is pale blue with angled headstock,
Gotoh tuners, Ebony fingerboard. Case - $85. Guitar - $1400.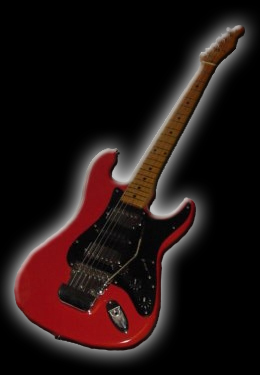 045 - Double Cutaway
Light ash Warmouth body, Salmon finish, Gibson pickups and bridge, Vintage cheapo tremolo doesn't dive far, 21 fret Tele-style maple neck is a deep boat keel shape with skunk stripe. Hard case - $85.
Guitar - $850.

060 - More Paul
Walnut body and neck, Burst finish, Bigsby tremolo, Gibson electronics and tuners, Fat neck has a rosewood fingerboard and mother of pearl dots and side dots and more than twice the neck angle of a Les Paul. No case. $1500

008 - Double Cutaway
Book matched walnut crotch body, Dished top bursted with Analine, Tobacco powdered finish, Handwound single coils have rosewood covers.

011 - Frag Custom
Ash and walnut body is dished on both sides. Tobacco sunburst, Pearly Gates Seymour Duncan pickups, Gold hardware, Ash knobs capped with mother of pearl, Slim walnut neck, Rosewood fingerboard is abalone inlaid, Sounds bright, yet dark. Case - $85. Guitar - $1,650
053 - Baritone Single Cutaway
Semi-hollow basswood body, Seymour Duncan mini-humbucking bridge pickup, Strat neck pickup, Black lacquer finish, Black hardware, 23 fret slim maple neck